In 2016, Irish milk output increased by 4.3% compared to 2015 to reach 6.6 billion litres for last year. During the period October to December, output fell by 5% compared to 2015 levels. It remains to be seen whether this will be mirrored in the actual reduction submitted by Irish dairy farmers under the EU's voluntary supply management scheme. The Ornua Purchase Price Index was adjusted upwards in January to 105.4 from 103.8. This is reflective of lower Butter/SMP returns in the month, offset by higher cheese and whey powder prices.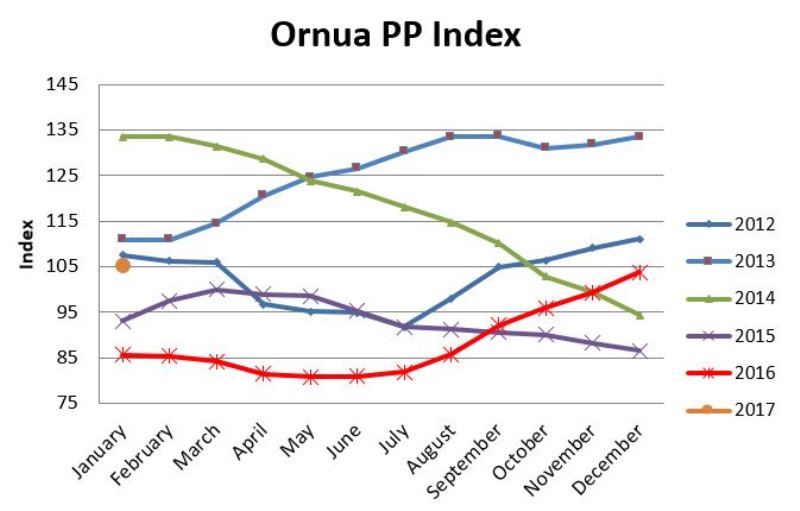 The EEX Index for butter is at €4033/t and for SMP it is at €2038/t. The butter index is down from historically high levels, reflecting increased production in Europe. EEX traded over 82,000t of dairy futures contracts in 2016, up from 29,000t in 2015.  The European Commission rejected bids for SMP at the most recent tender with bids ranging from €155/100kg to €190/100kg covering 7400t submited by potential buyers. The minimum seling price for the Commission is €215.1/100kg. The Commission is expected to stick to its guns in the short term at least. Meanwhile, the Commission has strongly indicated that Private Storage Aid will not be avialble in 2017 for butter which is disappointing as the measure is a useful tool to assist countries with seasonaility concerns.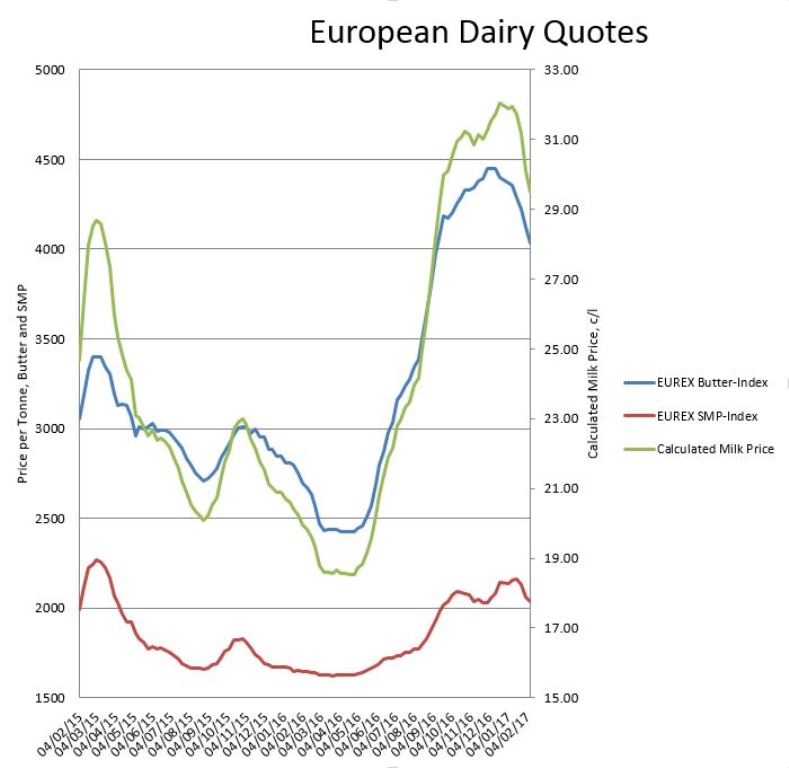 As peak seasonal production moves from the southern to northern hemisphere, Koert Verkerk (LTO) on the 25th January provided an overview at the European Milk Market Observatory Economic Board of the expected impact in the Netherlands of phosphate limits. In 2016, Holland increased milk output by 8% compared to 2015 levels. However, in 2017 no further growth is expected. Since 2011, cow numbers have increased by 19% and milk output by 25%. The derogation to the nitrates directive only provides for a 10% increase in output due to phosphate concerns.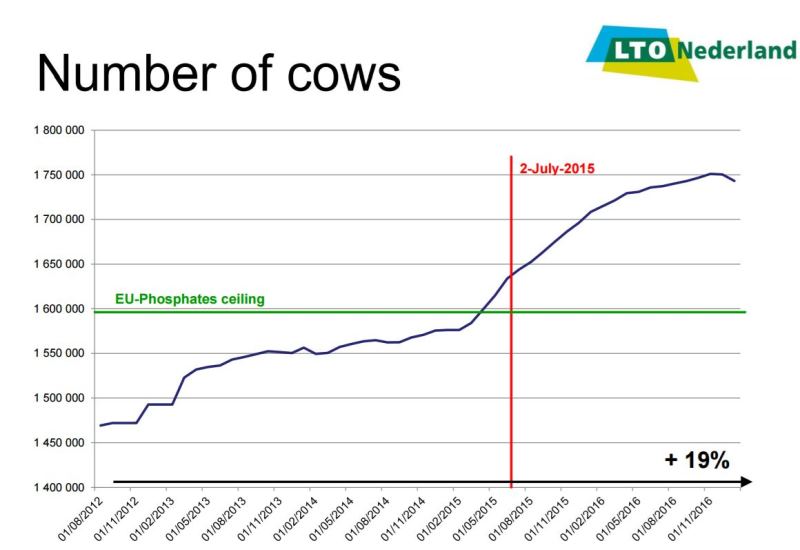 In order to bring dairy herd numbers to July 2015 levels, which is required to comply with the legislation, some 190,000 cows (10% of the dairy herd) may have to be culled, leading to a 5% decrease in production. While the European Commission is still in discussion with the Dutch sector, it is proposed that phosphate rights will be introduced for all dairy farmers by January 2018.
Finally, the Commission has estimated that for 2017, EU milk deliveries will remain below 2016 for the first half of the year, but could rebound in the second half with a small annual increase of 0.5% predicted.


ICOS News
ICOS News
ICOS News
HOME
ICOS News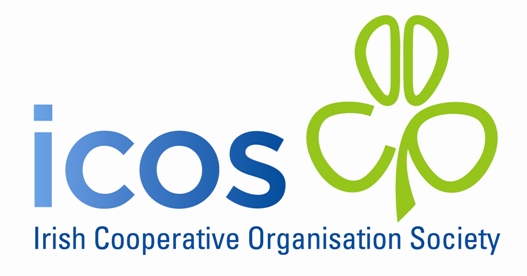 HOME