The Food and Agriculture Organisation of the UN Biannual Outlook Report is forecasting global milk production to grow by 1.4% to 831 million tonnes in 2017.
Global trade in dairy products is projected to increase by 1% to 71.8 million tonnes of milk equivalent. Recovering milk output in the EU and production growth in the US are anticipated to be the most dynamic factors affecting the international market in 2017. On the demand side, recovery in Chinese imports is forecast as the main engine for growth. In addition, purchases by Russia, Mexico, Australia, the Philippines, Thailand, Yemen and South Korea are projected to increase. Shipments to Brazil, Saudi Arabia, Malaysia, Vietnam and Nigeria are expected to diminish. While demand from Indonesia, UAE, the US and Japan will be stable.
FAO: Global Trade in Dairy Products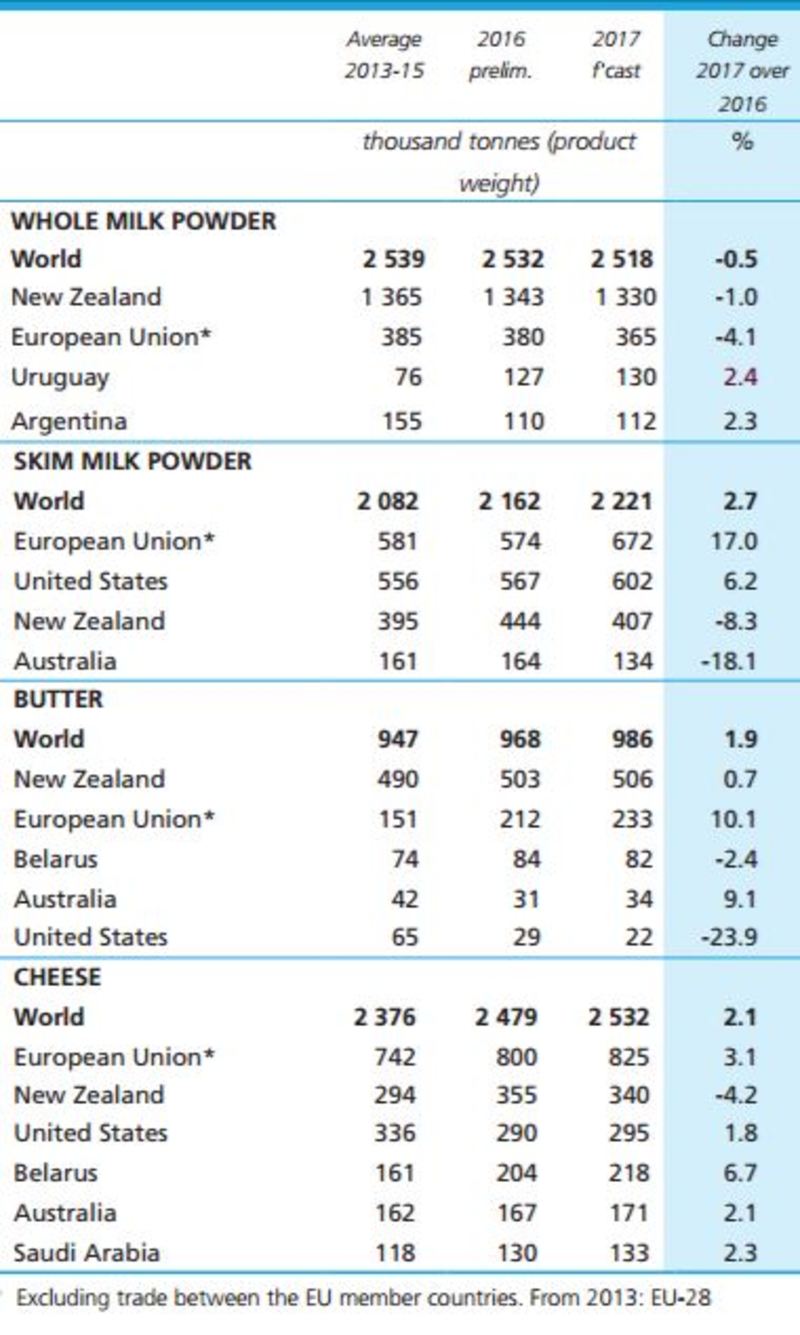 Trade in butter is forecast to record a second year of growth in 2017, rising by 1.9% to 986,000 tonnes. Firm demand and limited supplies has seen international quotations reach sky high levels. The EU will continue to supply most of the rise in international butter demand. Since 2013, EU butter exports have almost doubled, with strong growth from China, the US, Saudi Arabia and Egypt. EU butter exports in 2017 are projected to grow by 10% to reach 233,000 tonnes. Globally New Zealand is the main exporter of butter, with their exports expected to grow modestly this year, remaining at over 500,000 tonnes.
FAO: Major Butter Importers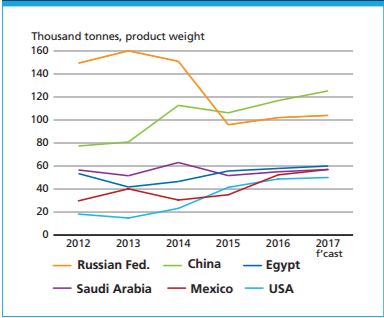 Trade in cheese is forecast to increase by 2.1% to 2.5 million tonnes with solid demand across all major markets. The EU is the main exporter of cheese, at 825,000 tonnes. World trade in WMP in 2017 is projected to fall for the third year in a row by a modest 0.5% to 2.5 million tonnes. Imports from Brazil is expected to fall as domestic production recovers after a period of severe drought in 2015/16. In addition, imports from Saudi Arabia, Nigeria, Oman, Cuba, Algeria, Bangladesh and UAE will be sluggish, with low oil prices and political instability impacting. Chinese imports of WMP are expected to recover in the second half of 2017, reaching 592,000 tonnes (still substantially below 2014 peak). Trade in SMP is expected to recover by 2.7% to reach 2.2 million tonnes, following a decline of 2.4% in 2016.
By Eamonn Farrell
Agri Food Policy Executive
ICOS News
ICOS News
ICOS News
ICOS News
Uncategorized