"Irish co-operatives are succeeding and growing their businesses in an increasingly globalised and competitive market environment. As the sector continues to expand, co-op leaders need to promote a clear strategic vision and best practice in co-operative governance to maintain the clear competitive advantages that Ireland has as a leading global exporter of the highest quality foods."
"This is particularly the case as we cope with the potential chaos arising from Brexit, ensure compliance with a complex regulatory environment and as we also adjust to reforms of the Common Agriculture Policy," ICOS President Martin Keane told the 41st ICOS National Conference at UCC today.
ICOS is the policy and representative body for the co-operative sector including the main dairy processing co-operatives and national co-operative livestock marts. The conference was attended by over 170 co-operative directors from all over Ireland along with executives, researchers and academics specialising in food industry development. ICOS has a strong relationship with the Food Industry Training Unit in UCC where it partners with the University to deliver the UCC Diploma in Corporate Direction. The conference was told that up to 200 co-op directors have achieved this qualification to date.
"Co-op directors are responsible for ensuring that our businesses are compliant, so we need to familiarise ourselves with the challenges, understand the implications, and ensure that we put in place the people, structures, and funding to ensure that we discharge our responsibilities. I'm pleased to note we're achieving strong progress in this regard," said Martin Keane.
On Brexit, Keane said the narrative emerging from the UK on Brexit continues to be 'chaotic' and it is still impossible to predict the outcome of the process. "Faced with such uncertainty, our industry must continuously bolster its strength and competitiveness and further intensify its global marketing efforts to ensure continuing growth and success. The good news is that our sector is increasingly its innovation and efficiency all of the time and this must continue."
On CAP, Martin Keane also reiterated ICOS's position as follows:
"In the context of future EU Agricultural policy, we will have to deal with a large hole in the budget. The Commission will remind us that the size of the CAP budget is a matter for the member states to decide. As an industry we must speak with a clear and united voice to defend the CAP budget, and demonstrate to the Council that Europe stands to lose enormously if our current model of farming and food production is undermined.
"The Policy environment in which we operate is vital to the maintenance of our sustainable family farm model. We have seen what the removal of supports has achieved in New Zealand, they can produce the milk, but at what cost? We must work hard to ensure that the next CAP is well funded, and fit for purpose.
"Very significant investments have been made in the future processing capabilities of our industry. Producers have contributed strongly to that including investment and expanded production.  The signals in surveys from various dairy co-operatives are all positive with a continuing growth in milk output anticipated. Co-ops have robust and strategic plans in place to deal with this combined challenge and opportunity.
"We need a supportive framework in which to operate. That is why the currently proposed CAP reforms are crucially important.
"The EU Commission's communication on the 'Future of Food and Farming' sets out proposals for a range of CAP reforms post-2020. It aims to provide direction as to how the CAP should evolve to meet emerging challenges for European agriculture. It outlines a less prescriptive approach and greater subsidiarity at Member State level to make the CAP more relevant and practical for the officials and people who implement it on the ground, including primary producers.
"Irish farmers and co-operatives are facing unprecedented challenges in the coming years as a result of Brexit, climate change and global market volatility. Under any CAP reforms, market supports and risk management measures will be necessary to protect against this volatility.
"It's essential for the CAP proposals to be supported with sufficient financing and strong and effective market support and risk management tools. This will provide much needed stability and will enable farmers to meet the outlined goals, including ambitious environmental targets.
"Income stabilisation tools, such as the ICOS 555 income deferral scheme, will also help to address volatility, allowing farmers to defer a small proportion of their income in a good year and draw it down in a bad one.
"Seasonality is also a key issue that must be addressed to stabilise market prices throughout the year. This can be achieved, for example, by redefining private storage aid as a market management tool while opening support for applications during peak season each year.
"The CAP can also help promote the development of a European futures market. This would be a key tool that co-operatives could use to manage volatility through financial hedging. To achieve this, its use needs to be encouraged and training and advisory services provided for co-operatives so that they can effectively use it as a risk management tool.
"We also welcome the focus on trade within the CAP and the commitment to promote EU food quality and standards worldwide. This will help to improve market access for EU products globally and will be critical to overcome the challenges posed to the Irish agri-food sector by Brexit.
"The potential for increased national flexibility within the proposals will allow us to better address local issues, particularly within environmental schemes. With a strong and controlled EU framework, we can avoid any potential distortion to competition or the functioning of the single market.
"However, ICOS opposes mandatory capping and degressive direct support payments. Decoupled direct payments are the main tool that farmers have at their disposal to support and stabilise farm income. Capping and degressive payments would only serve to reduce income for active farmers, who are in most need of this support.
"The recent CAP Communication highlights the effective role which producer organisations can have in strengthening the position of farmers in the food supply chain. It is essential that co-operatives are placed front and centre in that ambition as the future CAP emerges.
"Co-operatives are the most effective, socially responsible and sustainable form of producer organisation, providing numerous benefits for their members, industry and rural communities. They integrate the role of producer, processor and the marketer, helping to rebalance the food chain, bringing viable incomes to their members and offering a level of protection from volatility. Therefore we call on Commissioner Hogan and the Commission to encourage, promote and protect the role co-operatives within the upcoming policy reforms."
Sustainability
"Sustainability is also a major priority for our industry", said Martin Keane. He highlighted a forthcoming report which will be published by ICOS later this month entitled, "Positive steps toward a low carbon future for the Irish dairy sector". This is a comprehensive report on how the co-operative movement can deliver on its Climate Change obligations, while delivering on the potential that producers have as the primary source of quality dairy foods. The report is the work of a Committee, convened by ICOS and including the Environment and Farm Services teams from the dairy processing co-operatives
ICOS represents over 130 co-operatives in Ireland – including the Irish dairy processing co-operatives and livestock marts – whose associated businesses have a combined turnover in the region of €14 billion, with some 150,000 individual members, employing 12,000 people in Ireland, and a further 24,000 people overseas.
ICOS News
ICOS News
ICOS News
HOME
ICOS News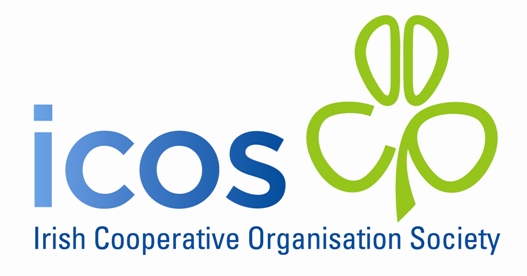 HOME