The Irish dairy industry enters into 2018 on the back of a strong performance in 2017. There are challenges on the horizon but the industry is on solid ground.
Milk collections last year were 9.1% above 2016 levels (Jan-Nov figures). Farm incomes benefited from a healthy average milk price, increasing from 23 cpl in mid 2016 to 35 cpl.  Very significant investments have been made in the future processing capabilities of our industry. Producers have contributed strongly to that including investment and expanded production.  The signals in surveys from various dairy co-operatives are all positive with a continuing growth in milk output anticipated. Co-ops have robust and strategic plans in place to deal with this combined challenge and opportunity.
Speaking at the ICOS National Conference in UCC, John Higgins from EY Ireland pointed out that for each additional litre of milk produced, there is a 90 cent additional economic benefit. This is staggering. His research suggests that dairy expansion for the period 2016 to 2020 will result in a EUR 2.7 billion economic impact for rural Ireland.
Income volatility is an ever-present issue. As illustrated by Peter Farrell, a young dairy farmer and Nuffield Scholar at the ICOS National Conference, the range of fixed milk price schemes offered by Irish co-ops are the simplest and most cost effective means to hedge future milk prices. The Government also has an important responsibility.
The Departments of Finance and Agriculture are committed to an agri taxation review in 2018 to examine specifically the issue of income stabilisation. The ICOS '555' proposal remains on the table. Income stabilisation tools, such as the ICOS '555' income deferral scheme, can help to address volatility, allowing farmers to defer a small proportion of their income in a good year and draw it down in a bad one. This concept has been further endorsed by the European Commission in its recent communication on the future of the CAP.
The narrative emerging from the UK on Brexit continues to be 'chaotic' and it is still impossible to predict the final outcome of the process. Faced with such uncertainty, our industry must continuously bolster its strength and competitiveness and further intensify its global marketing efforts to ensure continuing growth and success. The good news is that our sector is increasing its innovation and efficiency all of the time and this must continue.
Sustainability is a major priority for our industry as demonstrated by the recent launch of the Sustainability Support and Advisory Programme to address water quality challenges. Later this month, ICOS will publish a new report entitled, "Positive steps towards a low carbon future for the Irish dairy sector". This is a comprehensive report on how the co-operative movement can help deliver on Ireland's climate change obligations, while delivering on the potential that producers have as the primary source of quality dairy foods.
Finally, the availability of skilled labour at farm level is another key challenge, with a stakeholder group, chaired by Tom Moran currently scrutinising the recommendations by the People in Dairy Project.  While a considerable task, it is worth remembering that there are few, if any other economic  sector offering in excess of 6,000 job opportunities. These job opportunities are in rural Ireland, where they are most needed.
By Eamonn Farrell
Agri Food Policy Executive
ICOS News
HOME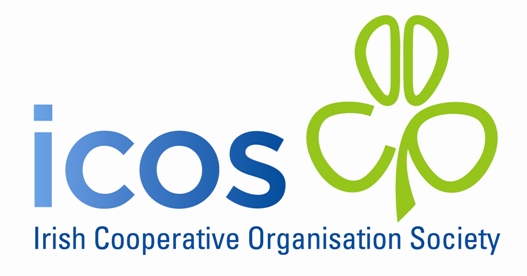 ICOS News
HOME
HOME
HOME