Michael Spellman has been elected President of ICOS, the Irish Co-operative Organisation Society, following a meeting of the Board today.
Mr. Spellman is currently  Chairman of the ICOS Marts Committee and is a former President of the European Association of Livestock Markets (EALM), and a former Chairman of Roscommon Leader Partnership. From Kilteevan, Co. Roscommon, he is a Board Member of ICOS and of Roscommon Co-operative Livestock Mart.  He is married to Marie and they have 2 children.
Michael Spellman said, "We have an extraordinarily vibrant agrifood sector, and farmer owned and controlled co-operatives play a huge role in underpinning, supporting, and driving it".
"Notwithstanding the enormous potential which our industry has, and the ambition we have to grow our exports in line with Food Wise 2025, we face enormous challenges around CAP funding, volatility, and compliance with our environmental commitments."
"Our member co-ops will play a central role in supporting our farmers to deliver on their own potential, putting in place the infrastructure to process and market their produce and bring it to the global marketplace. ICOS, under my Presidency, will continue to promote the co-op model, and work to support co-ops and their boards, with their rules, governance, representation and member engagement.
"It is vital that co-ops continue to invest in their member training and engagement structures, to provide a pipeline of committed, informed and motivated members who will go on to serve in leadership roles in their co-ops and in the Industry."
"I want to thank the Board for their confidence in me, and for their support, and I intend to work closely with the Executive team and the expert committees, representing dairies, marts, and all other co-ops, and with ICOS members, to ensure that ICOS delivers strong leadership to the sector, and to promote the interests of farmers and their co-operatives".
At the same meeting, Mr James O'Donnell was elected Vice President. James represents the National Co-operative Farm Relief Services and is a dairy farmer in Golden, Co. Tipperary, supplying Dairygold Co-op.
ICOS (the Irish Co-operative Organisation Society) represents over 130 co-operatives in Ireland – including the Irish dairy processing co-operatives and livestock marts – whose associated businesses have a combined turnover in the region of €14 billion, with some 150,000 individual members, employing 12,000 people in Ireland, and a further 24,000 people overseas.
Mr. Spellman will take office immediately. He succeeds Martin Keane who was President of ICOS from 2014 until earlier this month when he stepped down following his appointment as Chairman of Glanbia Co-operative and Glanbia PLC.
ICOS News
ICOS News
ICOS News
HOME
ICOS News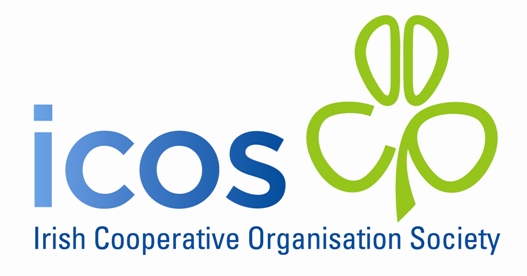 HOME