EU milk flows were negative in October (-0.4% year on year) for the first time this year, due to weather in France and Germany and phosphate restrictions in the Netherlands.
Ireland is the exception to this rule with strong milk flows in Sept-Nov due to good weather and strong milk prices.  UK output is muted. In the USA, milk collections are moderating, up 0.8% in October. The US herd size continues to fall but this is offset by higher yielding cows and improved solids. New Zealand is up 5.8 % in October due to favourable weather.  Australian production is worsening due to a fodder shortage, resulting from drought.
EU Milk Collections and Dairy Herd Size 2018 and 2019(f)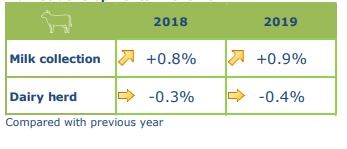 Cheese production is down -3.3% in September reflecting a reduction in milk flows in the largest cheese producing countries. Late season output from Ireland has increased availability of cheddar especially in the UK market. Butter production is easing, but cumulative output still up year on year. The EEX Butter Index is €4,297/tonne, down 30% from prices traded earlier this year.
The EEX Index for SMP is trading at €1,708/tonne, which is above the intervention price for SMP for the first time since August 2017. Over 60,000 tonnes of SMP stocks were sold on 13 December in the biggest sale since public tenders began in December 2016, bringing stock levels down to100,000 tonnes. WMP is facing increasing competition from FFMP on export markets, meanwhile higher oil prices in Q3 did not increase demand as expected.
Main Exporters and Importers of Dairy products (year to date)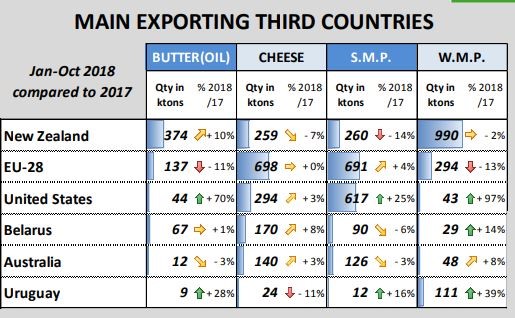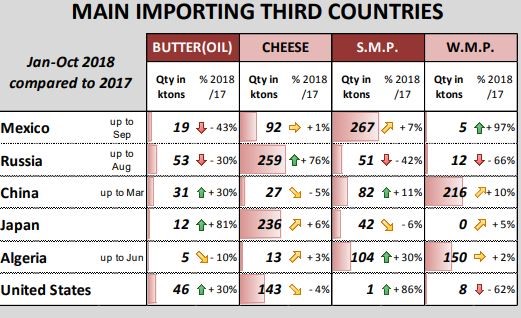 By Eamonn Farrell

Agri Food Policy Executive
ICOS News
ICOS News
ICOS News
HOME
ICOS News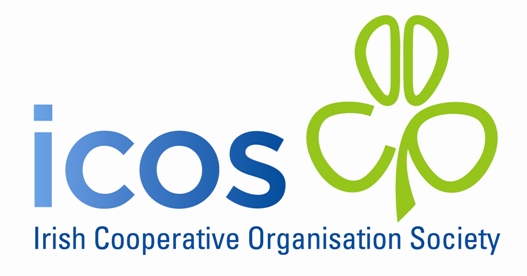 HOME