Global milk flows remain strong and are likely to end +1.6% for the year. The global export trade has proven remarkably robust but dependence on Chinese buying is a factor.
Oceania milk flows in October rose only slightly. New Zealand output increased by +0.8% in volume and +0.3% in solids and Australian milk flows fell by -0.3% (+1.6% for first 4 months of their new season). In New Zealand, dry weather affected October flows but more favourable weather reported in November. Milk flows in Europe are positive with the European Commission estimating growth of +1.4% in 2020 and a forecast of +0.8% in 2021. USA output is likely to remain strong, despite higher feed costs with the USDA forecasting +1.5% growth in 2021. Argentina's milk output has rebounded in 2020 (+7.2% year to date).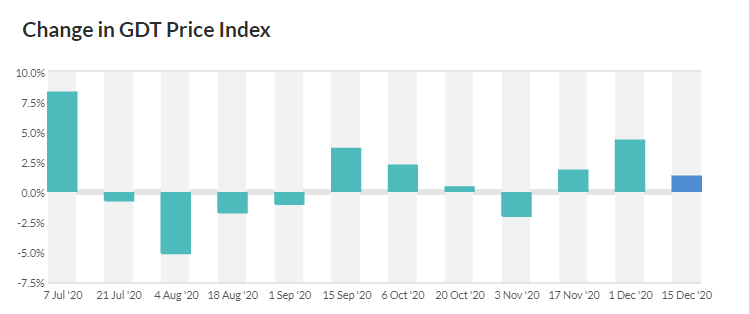 The GDT Index has been strong in recent weeks, with the futures outlook stable. The EEX Butter Index is at €3,302/tonne with the Dutch quotation lower at €3,280/tonne. The SMP Index is at €2,200/tonne. While butter is more exposed to the foodservice sector, higher retail sales are helping. Prices remain stable but trading is reported as quiet. Cheese prices are also stable but Brexit concerns in the short to medium term remain as we enter into 2021.

Eamonn Farrell – Agri Food Policy Executive
ICOS News
ICOS News
ICOS News
ICOS News
Uncategorized