Global milk supply is expected to increase moderately in 2021 by 1% to 1.5% with demand expected to remain firm.
Expectations are built upon a recovery in economic growth and foodservice demand with the gradual rollout of the Covid-19 vaccination programme. November milk flows were weaker in Oceania, but were offset by growth in the USA, South America and Europe.
The avoidance of significant Brexit tariffs is a considerable relief but the extra administration costs and delays associated with trade to the UK is a concern. The heightened focus on sustainability will continue to be a key factor in 2021.
Irish domestic milk intake (See Graph) was estimated at 254.8 million litres for December 2020. This represents an 5.5% increase over December 2019. A comparison of figures for January to December 2020 with the corresponding period of 2019 show that: domestic milk intake increased by 3.8% to 8.292 billion litres. Butter production increased by 4.7% to 262,600 tonnes. Fat content in milk increased to 4.2% and protein content increased marginally to 3.55%.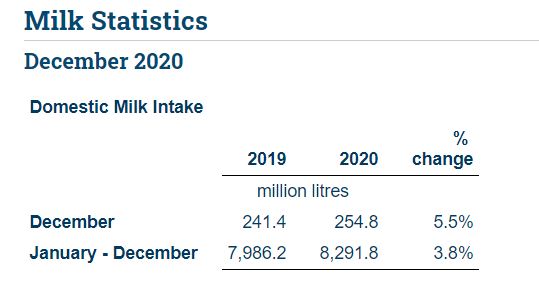 Despite the challenges of Covid-19 and Brexit facing Irish dairy exporters in 2020, exports of dairy products and ingredients performed solidly in 2020, as reported by Bord Bia in their annual Export Performance and Prospects Report. The key findings include the following:
The value of dairy exports grew to €5.2 billion in 2020; the second year that dairy exports exceeded the €5 billion mark.
The global reach of Irish dairy is significant with 49% of all dairy exports sold in markets outside the UK or the EU (See Graph).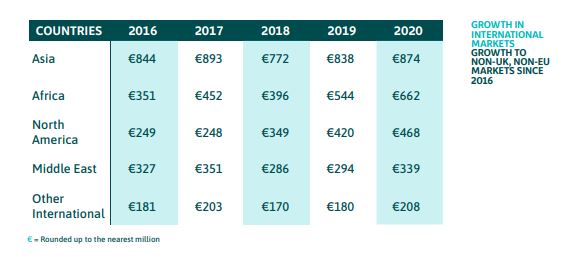 Third country markets underpinned growth in 2020 with demand strong in categories such as specialised nutritional powders and other key powders (including SMP, WMP and casein).
Butter exports performed well despite commodity price pressures and the impact of a 25% tariff in the US. Butter exports were worth €961 million in 2020, the most valuable of all the dairy sub-category, but only narrowly ahead of cheese exports in value terms. Butter exports were worth €961.4 million in 2020, while cheese exports were worth €961.3 million.
Exports of cheese increased to countries in Asia, North Africa and to the EU as part of a diversification strategy beyond the UK.
Specialised nutritional powders experienced growth to traditional and new markets with exports in this category worth €956 million in 2020.

Eamonn Farrell – Agri Food Policy Executive
ICOS News
ICOS News
ICOS News
ICOS News
Uncategorized