ICOS, the policy and representative body for the co-operative sector will establish a 'co-operative framework' for Irish co-operatives to share information and best practice on sustainability and the bioeconomy.
The announcement follows a gathering of co-operative industry leaders and environmental experts at an initial national 'bioeconomy workshop' organised by ICOS in Killenard, Co. Laois, which discussed the progress already being achieved by the industry and the potential for this to be further accelerated.
ICOS currently represents 130 co-operative enterprises in Ireland, including dairy processing co-operatives and co-operative livestock marts, with over 150,000 individual members, a combined turnover of €14 billion and employing more than 12,000 people.
The main themes of the national workshop included the achievement of climate, water and biodiversity targets related to three key activities in the agri-food system – primary agriculture, energy and the bioeconomy, and carbon and land use (LULUCF – Land Use, Land-use Change and Forestry). The focus will be on how targets can be met through existing and prospective co-operative models.
Following today's meeting, ICOS called for representatives from board and executive levels in co-operatives, as well as key stakeholders, to join a number a working groups to identify and to collaborate on a shared strategy to develop and implement impactful projects. These will be centred around sustainability and the bioeconomy under co-operative control and direction. The projects should help industry to accelerate delivery of climate targets and objectives by disseminating best practice and collaborating on future innovations and initiatives for the co-operative sector.
John Brosnan, Bioeconomy Executive of ICOS said, "Implementing projects centred around bioeconomy principles will allow for greater value to be unlocked from the food, feed, fibres, chemicals, fuels and energy that we can derive from our land, crops and natural resources. What was once considered a 'waste' is now a valuable by-product or co-product. By moving towards these new business models, the 'win-win' of helping climate, biodiversity and water quality can be coupled with greater economic return."
ICOS also announced a research project on farmer attitudes to upcoming challenges and opportunities, funded with generous support from The Golden Jubilee Trust.
The results of the research will be combined with the recommendations of today's national bioeconomy workshop and the ongoing co-operative framework that is being established to drive the strategy and series of measures that ICOS will deliver in 2023 and onwards.
The establishment of the co-operative framework is being supported by ICOS Skillnet, the Learning and Development Division of the Irish Co-operative Organisation Society, co-funded by Skillnet Ireland and member companies. Skillnet Ireland is funded from the national training fund through the Department of Further and Higher Education, Research, Innovation and Science.
Today's national bioeconomy workshop heard from ICOS President, James O'Donnell; Minister of State Martin Heydon; Laura Burke, Director General, Environmental Protection Agency; Seán Kelly, MEP; Pádraig Fleming, Biomethane Programme Manager, Gas Networks Ireland, and expert panellists and facilitators, from the government, academic, research and investment communities.
ICOS President James O'Donnell said, "Agriculture is set for a very considerable transformation over the next decade where farming communities and the co-operative dairy and livestock industry proactively recognise the responsibility to reduce emissions to prevent global climate change.
"Our food system is coming under unprecedented pressure to deliver ever increasing interlinked services and benefits. A secure supply of safe, nutritious, and affordable food has been a cornerstone of food production in the EU since its foundation. However, our production systems are now under sustained pressure to deliver on these accepted benefits while delivering improvements in air and water quality and reducing greenhouse gas emissions. There is also the necessity to commit more land to biodiversity, carbon sequestration and more broad 'ecosystem services'."
"Our co-operative ethos means that we will step up to the plate to provide leadership and vision during this period of change. The outcome of this should be that our co-operative members retain control and benefit from the opportunities rather than be economically disadvantaged in any way by a new era of production. A food 'system' approach will help ensure this, taking into account the closely linked challenges and opportunities that exist in the broader bioeconomy, in both decarbonising and producing energy, chemicals and materials alongside food and feed."
"The application of science and the measures outlined in the Climate Action Plan provide a roadmap that will bring about a considerable reduction in greenhouse gas emissions from Irish agriculture by 2030.
"For example, there is a widespread application of Teagasc's Marginal Abatement Cost Curve including measures such as low emission slurry spreading, the application of protected urea and the use of clover. The development of methane mitigating feed technologies, enhanced breeding strategies focused on efficiency and low carbon traits, and improved grassland management also form part of the solution.
"Co-operatives are also deeply supportive of Teagasc's Signpost Farm Initiative. This includes the innovative Agricultural Sustainability Support and Advisory Programme (ASSAP) for water quality improvement, and direct knowledge transfer and support programmes among farmers. The co-operative sector's sustainability will continue to be underpinned by ISO environmental protection standards and the Origin Green Programme, which has verified that the emissions intensity of Irish milk production is among the lowest in the world."
"Irish agriculture is part of the climate action solution. We're very encouraged by today's proceedings where there is a proactive and positive commitment towards achieving the most mutually beneficial outcomes for our environment and for our co-operative farming and food production sector," said James O'Donnell.
ICOS News
ICOS News
ICOS News
HOME
ICOS News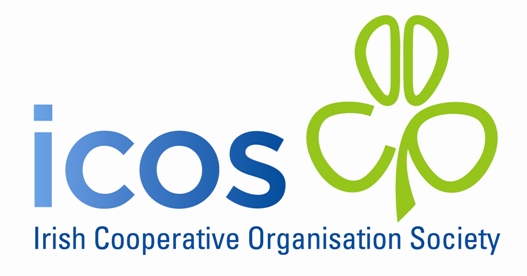 HOME